NEW Beetle EYELASHES!!! (FAQ)

What is in the kit? The kit includes the eyelashes, eyebrows, and thorough instructions for installation.

What color options are available? If your NEW Beetle is a lighter color, we recommend a Vivid Black kit, however there are other color options such as Snow White, Lemon Yellow, Metallic Silver, Stardust Blue, and Hot Pink.

In terms of "permanence" they look permanent and will withstand carwashes. They are removeable when you wish to "go naked" like you might to sell the car or whatever. It gives you the best of both worlds.

To remove them, you simply warm them with a hairdryer and peel them off. The kit cannot be reused once it has been removed.

How much? $38.00 (shipped to U.S.), we also ship to the U.K.

How do I order?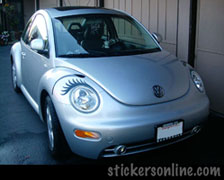 Please click the "Buy Now" button to place an order online. If you prefer, we do accept checks, please email us at stickers@stickersonline.com and we will provide you further instructions. Of course our online order process will get you a more rapid shipment since we process your order as soon as we receive payment.

More questions? Please email us at stickers@stickersonline.com!